When it comes to cruising with food allergies, Disney Cruise Line is always my top recommendation. Cruising with Disney their customer service is top-notch. That is truly what can make a food allergy experience that much more extraordinary.
However, like any food allergy vacation, it is about being prepared before you leave home and then continuing to be an advocate for yourself on board.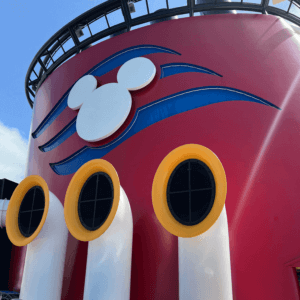 Before Leaving Home on Your Disney Cruise
When your family books with me, I will take care of notifying Disney at time of booking and before your trip starts. However, if you don't use a travel agent you need to make sure you get it notated on your reservation at booking and then follow up before you embark on your trip.
Sitting on the phone can take a bit at times but will be so worth it knowing you have done that extra step pre trip!
I recommend bringing safe snacks for the moments when you may get hungry because you can always do with more snacks – especially when you are off the boat on excursions.
On Board
One of the best things about Disney cruises is the fact that you have the same server each night. They travel with you each night from restaurant to restaurant. Still remind them of your allergies and ask questions about what you can have. It is still important to be your own advocate. Be smart and be vigilant.
Also, because food allergy meals take a bit longer to prepare in a safe place you can ask your waiter about pre-ordering your dinners for your next dinner. Your waiter can get you the upcoming menu for your convenience.
While the safest route is to eat at sit-down restaurants for all meals, I have also had success talking with chefs at the buffet and getting them to bring out options that haven't been cross-contaminated on the buffet.
Castaway Cay
Ask your waiter before Castaway Cay, which restaurant on the island will have the food allergy supplies for your meal. This is another meal you can arrange ahead of Castaway Cay, especially if you have multiple allergies makes it easier.
Notes:
Always advocate for yourself and remember that not everyone is educated on every allergy. Disney always does an amazing job of listening and working to accommodate.
They do leave Dove milk chocolates on the bed with a towel animal each night. I always recommend to clients that they bring safe candy for their kids to switch out with the Dove. I have had some clients even leave a note with the safe candy and ask the cabin steward to use the safe candy instead of Dove. This way the kids can have that exciting moment instead of disappointment each evening. It is the little things that add magic!
Utilizing a Food Allergy Travel Agent means you are working with someone who understands living and traveling with food allergies.