You are thinking of planning your upcoming trip but are not sure how to navigate it with food allergies. Or maybe you are thinking for the future but have no idea where you would start. And now you have found yourself looking into a food allergy travel agent and what does that even look like to work with one.
For starters this is just the experience you'll find working with me, your fellow food allergy travel agent. Every travel agent specializes in their own niche and runs there process differently, which is great because you can work with the one that best matches what you are looking for. 
Meet the Food Allergy Travel Agent
My name is Lauren Scheffer and I am a Food Allergy Travel Agent and Food Allergy Consultant. Starting with just one allergy in college to now having 50 allergies I use my experiences to help you travel with your own food allergies. Being incredibly passionate about food allergy travel I am here to help guide you with tips and tricks when it comes to traveling internationally with food allergies.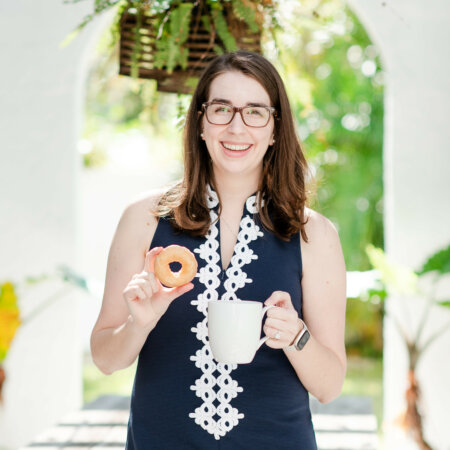 The heart behind Food Allergy Travel
My very first priority is your family's food allergies. If and how you have traveled in the past, what you feel comfortable with and what makes you nervous. It does not matter if I have worked with similar allergies in the past, every allergy can be different and I want to learn from you how you handle your allergies so I can best advise on destinations, options, and more. 
My goal is to give you a realistic idea of what your trip would look like based on destination, comfort levels, and experience you are looking to have. Experience is any aspect of your trip: flights, accommodations, activities, food, etc. And that can be okay for you, but it may come with more cooking in an apartment and packed lunches. But for those Bucket List destinations that can be worth it!
What is full-service travel planning with a Food Allergy Travel Agent?
When you hire my full-service travel planning services that means I am here to help you plan your trip from beginning to end. From booking flights, accommodations, transfers, activities, trains, and more! Plus I also provide customer service to you before, during, and after your trip. 
Now as a food allergy travel agent when it comes to full-service travel planning I am looking at everything through the lens of food allergies. For example, booking a transfer asking the driver to not be eating your allergies. If you are looking for an experience like a cooking class, afternoon tea, and more I work with the vendors about their policies and what accommodations can be made. I then provide you with that information for you to make your decision based on your comfort level. 
Before you leave you will be provided with a detailed itinerary accessible from your phone while traveling that contains all your documents for easy reference. No more sorting through your emails for confirmations.
I have a lot of questions about working with a Food Allergy Travel Agent
Trust me I completely understand the amount of questions that come with traveling with food allergies. Hiring a food allergy travel agent I am here for all your questions and if it is vendor specific I will get the answer for you so you don't even have to lift a finger. That is a benefit of working with a travel agent in general but as a food allergy travel agent I am here to give recommendations and guidance based on my experience in the industry as well as my experience with all my amazing clients' allergies. 
Most people's questions and concerns revolve naturally around food and eating out when traveling. This additional service of restaurant research allows you to select a package of restaurants and I handle the research for you. 
You fill out a questionnaire letting me know all about your food allergies in detail, foods you do and don't like to eat, your safe meals, and more. This way I can research based on your preferences. The package you select can be for a sit down restaurant, grab-and-go, gelato, cafe, etc. If I have the ability to make reservations I am more than happy to do that as well for you. 
The add on service of restaurant research can be added to your full-service travel planning with me or can be purchased separately if you already have your trip planned. I have a whole page dedicated to restaurant research HERE.
What Do I Not Provide as a Food Allergy Travel Agent?
While I am here to help you from A to Z with your trip planning and you can even add on restaurant research, there are things I cannot provide. You are responsible for updating your travel documents like passports, exchanging currency, getting a phone plan, and packing converters for your electronics. However, on the side of food allergies, there are things I cannot provide including the following.
Guarantees
First and foremost, Guarantees. While I am there to answer your questions, talk with vendors about accommodations for your allergies, and work with restaurants regarding accommodations (if added on) I cannot provide a guarantee. Whether a tour gets canceled last minute or a restaurant runs out of their egg-free pasta, things can always change last minute. Understanding the need to be more flexible, always having snacks on you, and more will allow you to be prepared for any situation. Ways I do try to prevent any issues is confirming with the vendor up until your trip and following up at restaurants as close as I can to get you accurate information. But also making reservations typically allows your allergies to be notated on the reservation so the restaurant is notified.
Confidence
Second, mindset/confidence. While my goal when answering your questions and concerns is to help you feel more confident regarding traveling with food allergies, there are always still risks when leaving home. You need to be in the right mindset when it comes to international travel. And it is completely OKAY if that is not this year, next year, etc. When you are ready to travel is when you'll be able to really enjoy the trip as a family. This is why I offer 1:1 consulting for families who maybe aren't quite ready but have questions they want to consider. 
Grocery Stores
Third, grocery stores. While I make recommendations around grocery stores that carry allergy-friendly brands and place them on the map in relation to your location. I do not provide recommendations on brands for your food allergies. That is something I recommend researching on your own to verify protocols, shared equipment and more. Stores can change at any time the brands or amounts they carry. That is why I always recommend taking nonperishable items with you and utilize the grocery stores for fresh items like meat, dairy, fruits, vegetables, etc. 
Hopefully, this gave you insight on working with a food allergy travel agent, and when you are ready to start planning your trip or looking for a consultation HERE.